Pride Dairy
It's hard to believe there was a time when an ice cream cone cost just five pennies, but it's true — and it was during that time period in that Pride Dairy opened its doors in 1930 in Bottineau, North Dakota. While they started with butter products, Pride Dairy has grown immensely over the last century and now crafts and sells world-famous ice cream. It's so famous, in fact, that Pride Dairy was named one of the top 50 ice cream parlors in the United States. Read on to discover how The Good Kids combined delicious ice cream with delectable design.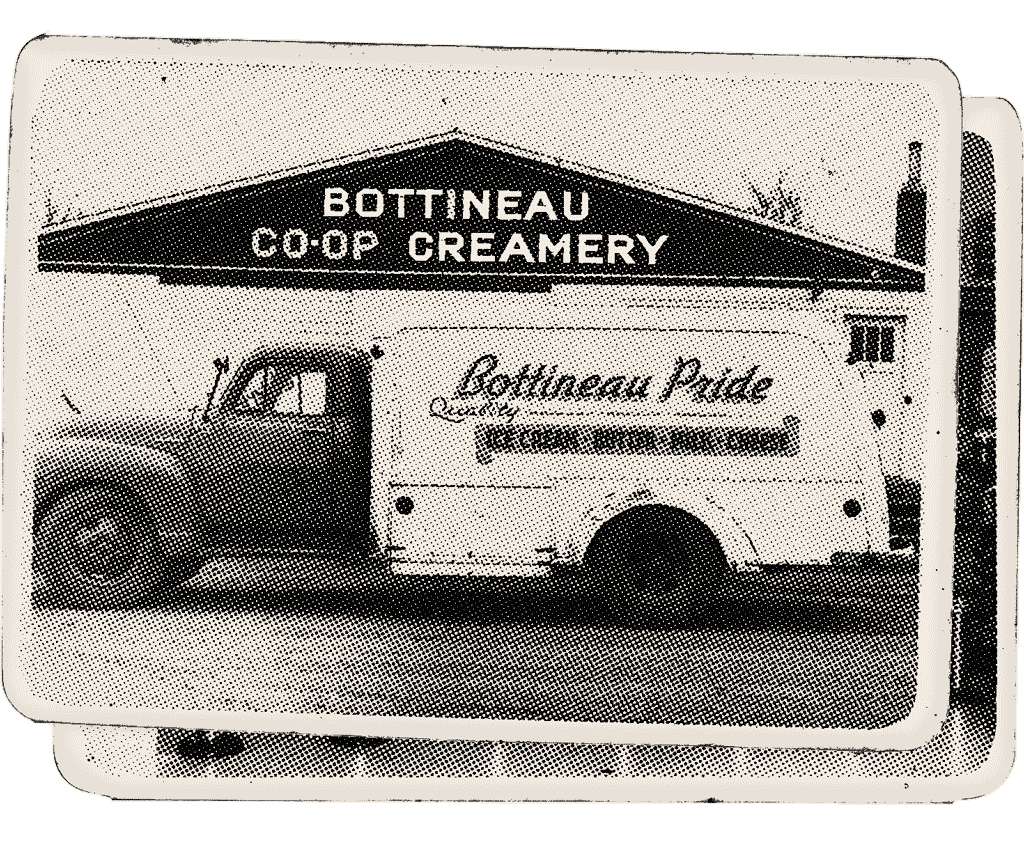 The Challenge
After experiencing continued success for nearly a century locally, Pride Dairy wanted to expand with a sub-brand: Oh! Ice Cream. While Pride Dairy dominates the North Dakotan ice cream market, Oh! Ice Cream was created to cross state lines and extend to the national market. In order to become the go-to ice cream brand in American freezers, a strong and appealing brand presence was necessary to stand out from the rest.
A business is only as effective as its brand, and owner Kriss Allard recognized that. In order for Oh! Ice Cream to thrive as a new and budding business, its parent company, Pride Dairy, needed to serve as a strong foundation. To measure its strength, The Good Kids completed a brand audit by collecting and analyzing all brand touchpoints (logo, color palette, print materials, social media and more). Then they created and deployed a short survey to gather customer data on the Pride Dairy brand. Lastly, they compiled and translated the research into a SWOT analysis to define the brand's strengths, weaknesses, opportunities and threats.

The brand audit determined that Pride Dairy's brand was in need of a slight refresh. Because Pride Dairy had been in business for nearly a century, keeping the brand recognizable was imperative. The brand's colors, fonts and wordmark were updated while maintaining a recognizable presense informed by the brand history. The iconic brand now has the tools to thrive for another 100 years.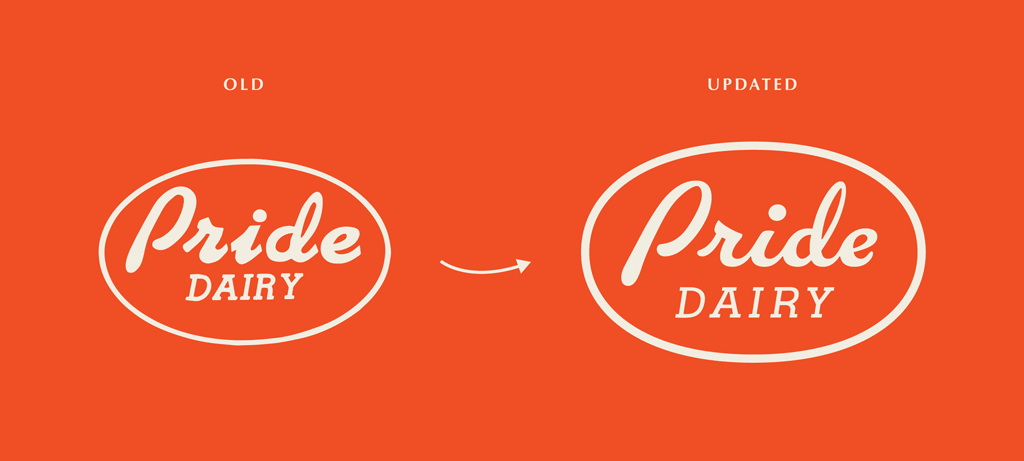 The Solution
There's nothing more satisfying (or delicious) than making homemade, hand-churned ice cream… The Good Kids get the same satisfaction when creating a brand from scratch like they did with Oh! Ice Cream.
To ensure success for the national product line, The Good Kids employed a strategic brand framework to learn and gather customer insight. To begin, they created and deployed a targeted survey to gather customer insight and evaluate new ideas. Once the data was in, The Good Kids pinpointed the qualities that make the company stand out in the market and resonate with the right people. Knowing the ideal target audience informed the decisions behind every detail of the brand.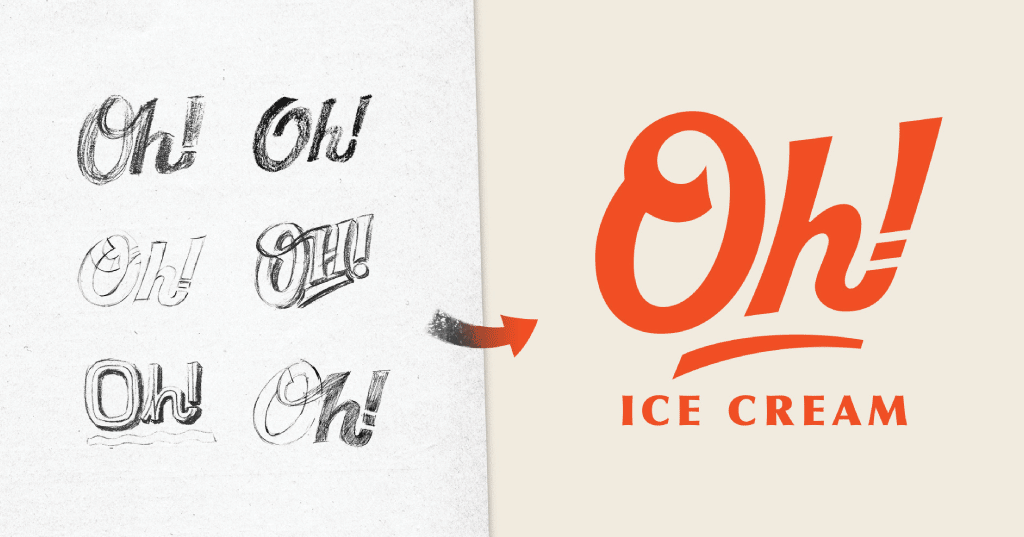 In order to begin the branding process, the new sub-brand needed a name. Naming a national product line can feel daunting, understandably so. After all, a name can't be shed after a few months. To establish a name that the ice cream brand would be proud to represent, the Good Kids organized a focus group of ideal customers. During the focus group session, participants reported their feelings and thoughts about several business names. After gathering intel and analyzing data from the focus group session, Oh! Ice Cream was officially established as the new name for the brand of tasty treats.
The new Oh! Ice Cream brand intentionally exudes quality and nostalgia. With classic colors like sunbleached red and natural white, the brand invokes the essence of a vintage ice cream parlor. The fun and nostalgic fonts say, "Nothing brings us more joy than providing you with a premium product!" While the brand is new, the updated look also pays homage to the fact that the business has been around for a century. Today the bold and retro brand draws eyes in the freezer aisle.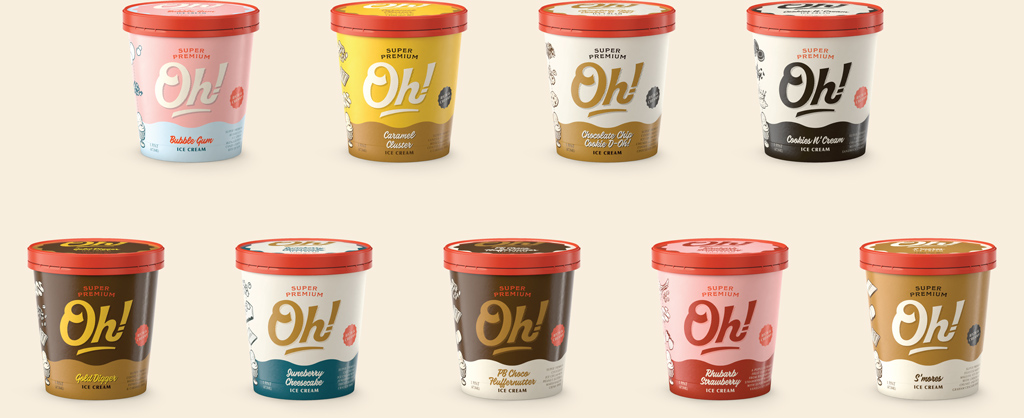 With the full brand toolkit in place, the Good Kids created packaging for Pride Dairy's tubs and Oh! Ice Cream's pints and ice cream sandwiches. The eye-catching red from Pride Dairy was applied across all the packaging and combined with unique accent colors to represent each flavor and bring familiarity to the new product line. Individual illustrations were created for each pint flavor to add to the authentic and retro feel. From the classic ice cream tubs to the new ice cream sandwich wrapper, the packaging is sure to make you say "Oh!"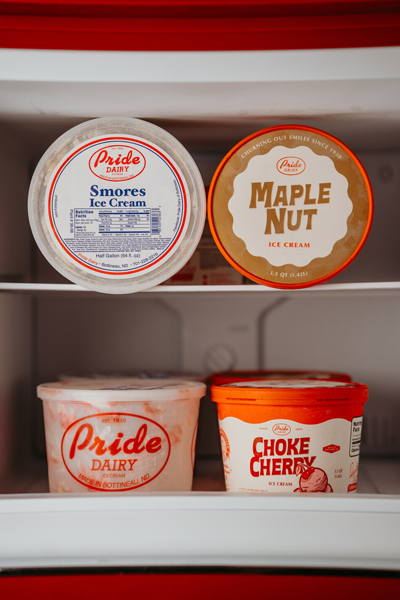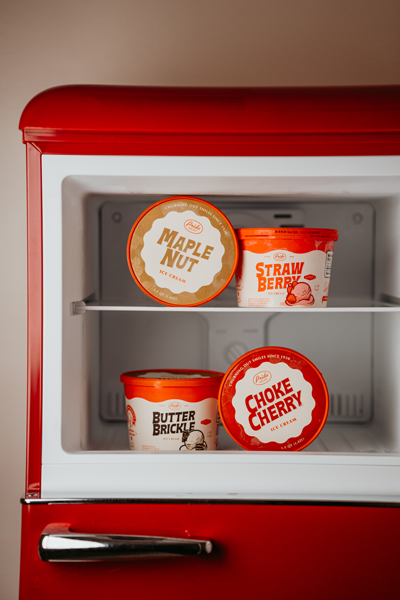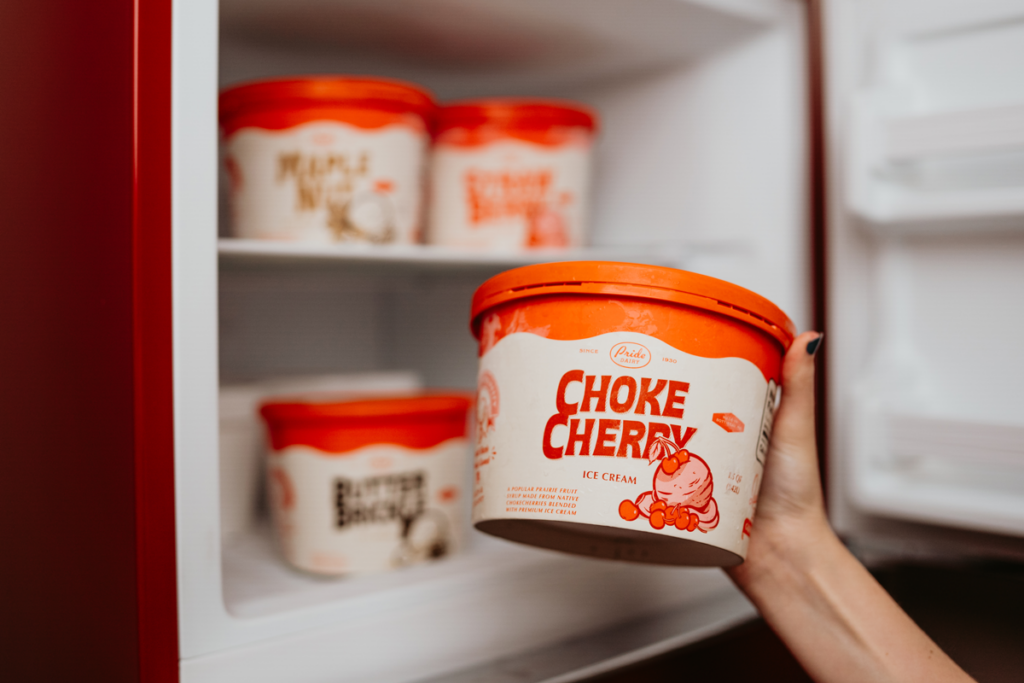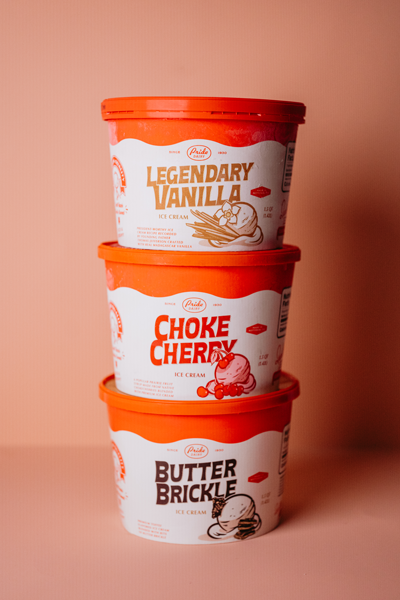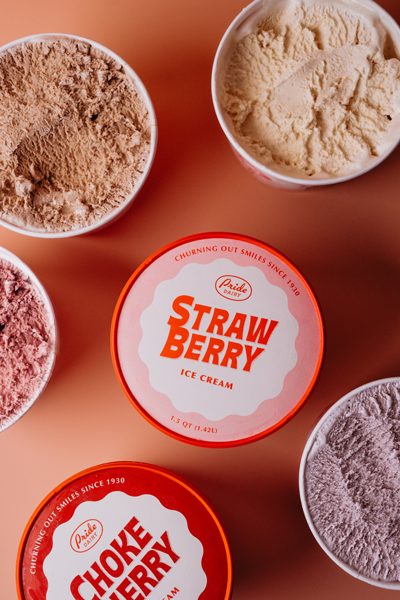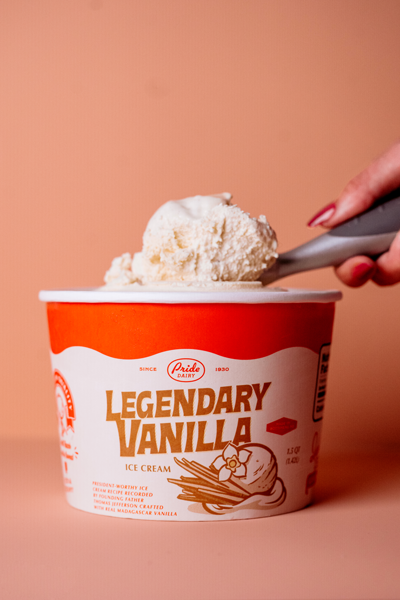 The cherry on top was helping Pride Dairy get their products in more stores across the region. To help establish wholesale relationships, The Good Kids designed a suite of engaging print collateral and a fully-featured new website to make a great first impression and encourage retailers to stock their shelves with Pride Dairy's ice cream products. The website (coming soon) features all of their locations, new products, opportunities for retailers, and future merch! Oh! Ice Cream is now fully equipped to confidently approach retailers and offer wholesale products with their branded sales collateral.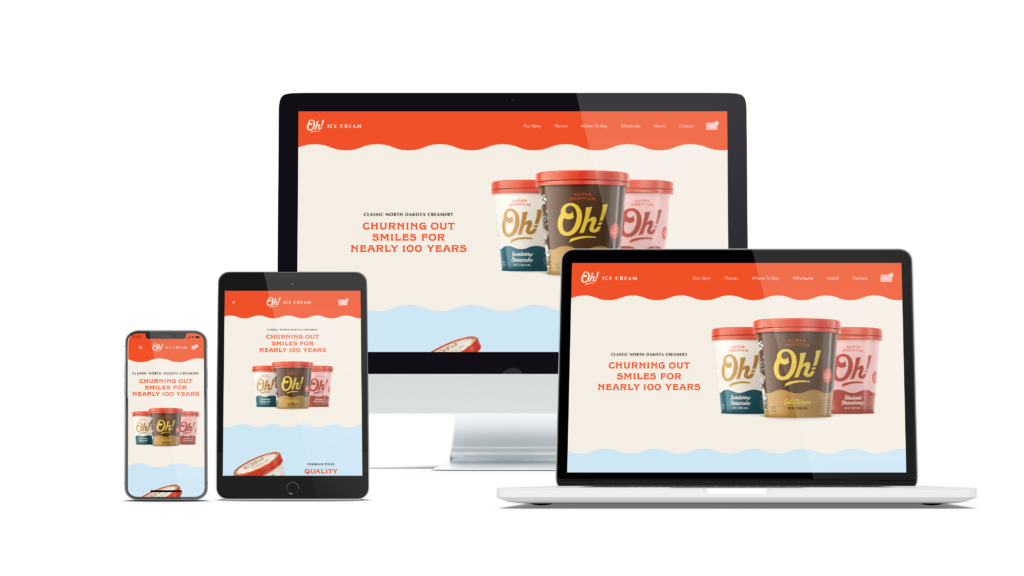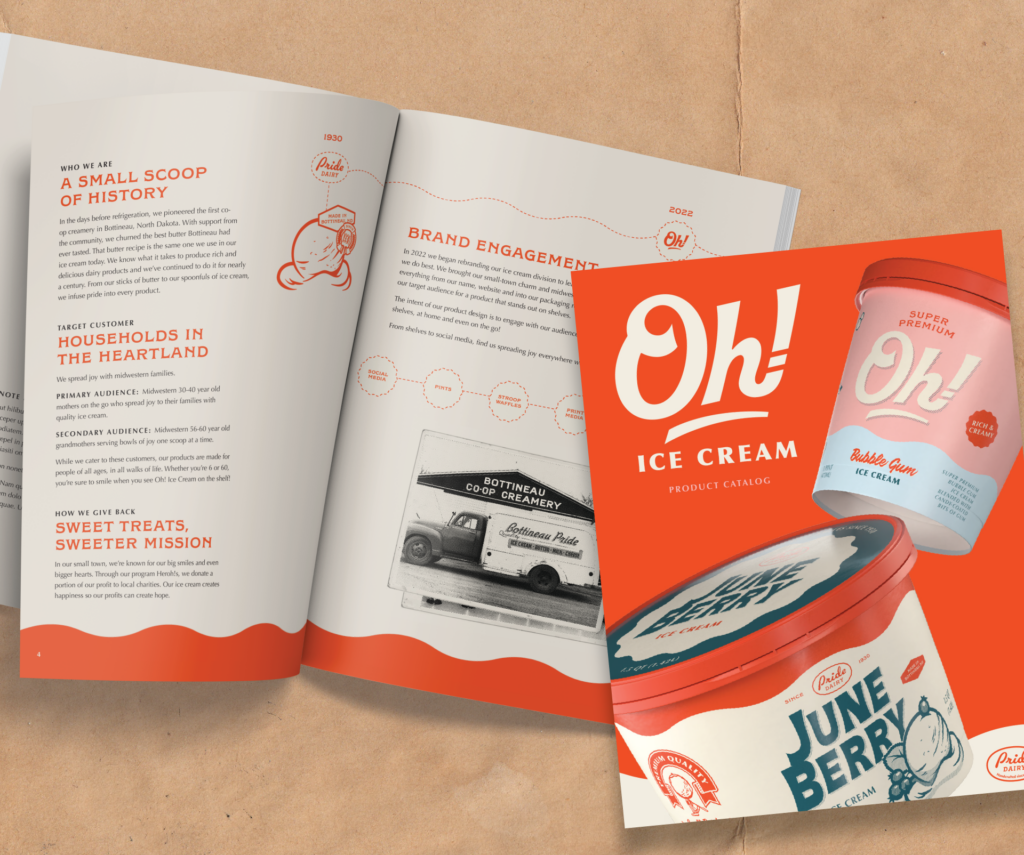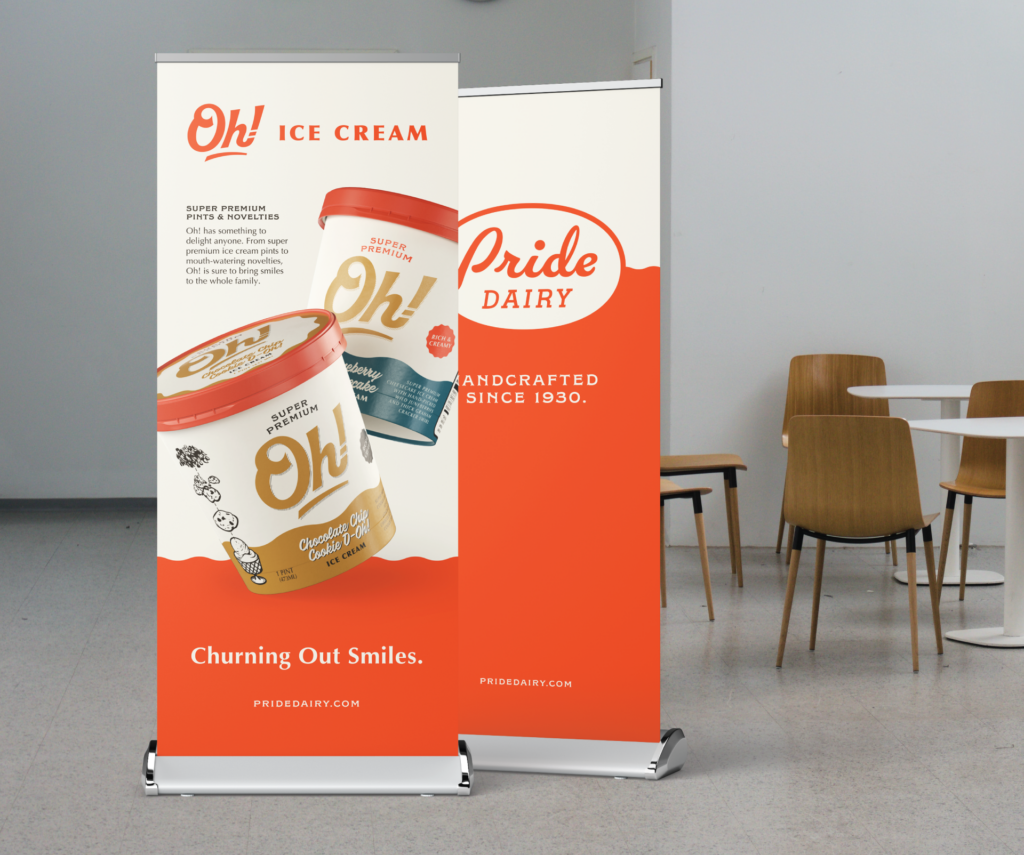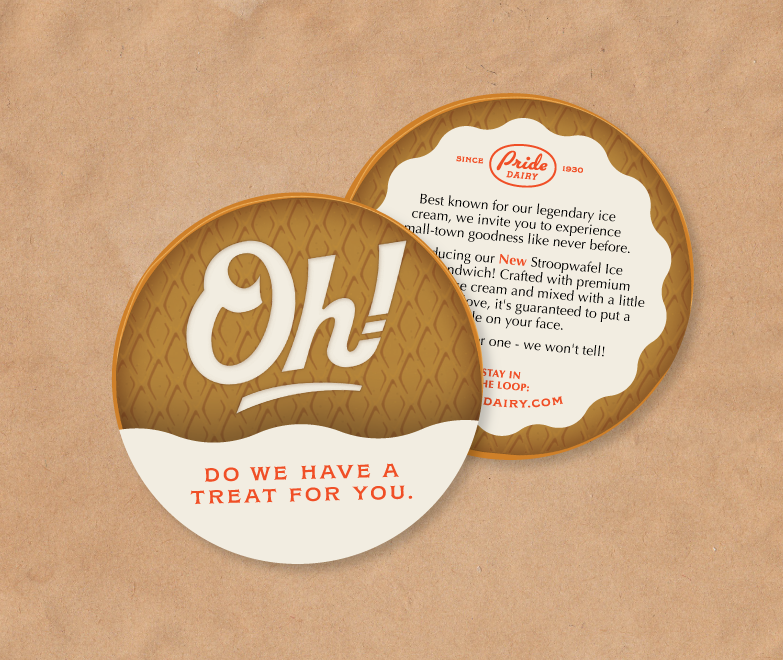 The Results
Don't just read about it; go see the products for yourself! You won't have to peruse the freezer shelves at the grocery store for too long — the packaging stands out from the rest. At time of publication, Pride Dairy's 48 ounce tubs can be found in grocery stores throughout North Dakota, and it won't be long before Oh! Ice Cream's expertly designed pints of ice cream and individual stroopwafel sandwiches can be purchased off the shelf as well… stay tuned!
If you'd like to get to scoop on where Oh! Ice Cream is headed next, head over to Pride Dairy's Facebook page for their most recent updates. Let's raise a spoon to all the sweetness that Oh! Ice Cream has in its future.