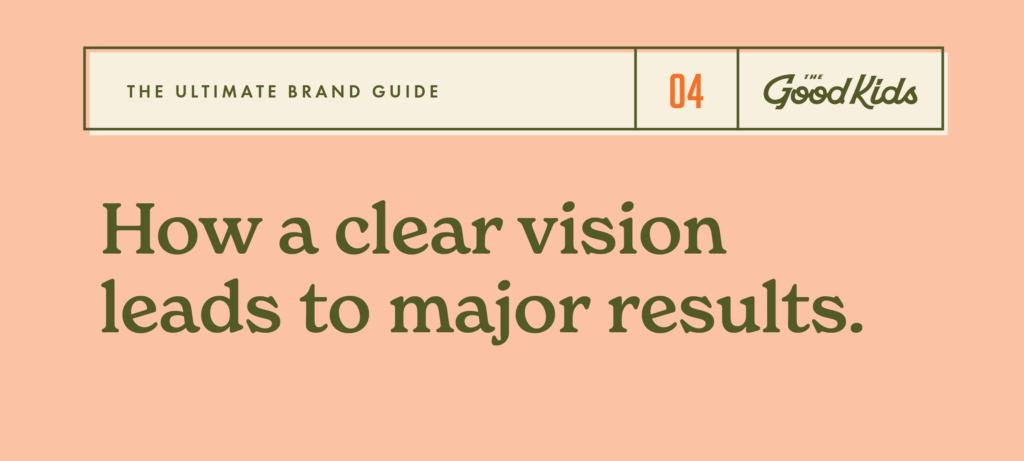 The third and final piece of the puzzle to fully understanding who your business is and where you're going, is found with identifying your company's vision. So far in this series, we've explained how to find your mission and core values, and now it's time to go deep into your vision.
Before we talk about what a company vision is, we want to start by explaining what a vision is not.
A VISION IS NOT…
Vision is not your company's mission. These two often get confused, but unlike the company mission that describes the who, what, and why behind your business, the vision clearly defines the long-term results you want to see from your company's hard work. In short, the mission put to work should lead to your vision.
Vision is not a strategic plan. While vision clearly defines your ideal destination, the strategy defines how you're actually going to get there. So why does vision matter then? Because you'll find that it's hard to make progress without knowing first where you're going. It's like asking Google Maps to give you directions before giving them an address. It just won't happen.
A VISION IS…
A vision is where you want your company (or industry at large) to go and the results you want to see. A company vision should stretch just beyond the practical, leaving you with a challenge that inspires and motivates.
Why do you need a vision?
Now that you have a taste of what a vision is, let's take a look at some of the more important reasons you need one in order for your business to succeed.
1. Vision influences your destination. It might sound obvious, but you cannot start planning if you do not know where you are going. As a business owner, it's so tempting to dive straight into the goals and strategic planning, but without first identifying the results you want to see or how you envision your business to look in 5, 10, 20 years time, you could be working towards a totally different destination than your team or business partner. Save yourself countless hours and emotions by discussing the vision from the beginning.
If you don't have a vision you're going to be stuck in what you know. And the only thing you know is what you've already seen. – Iyanla Vanzant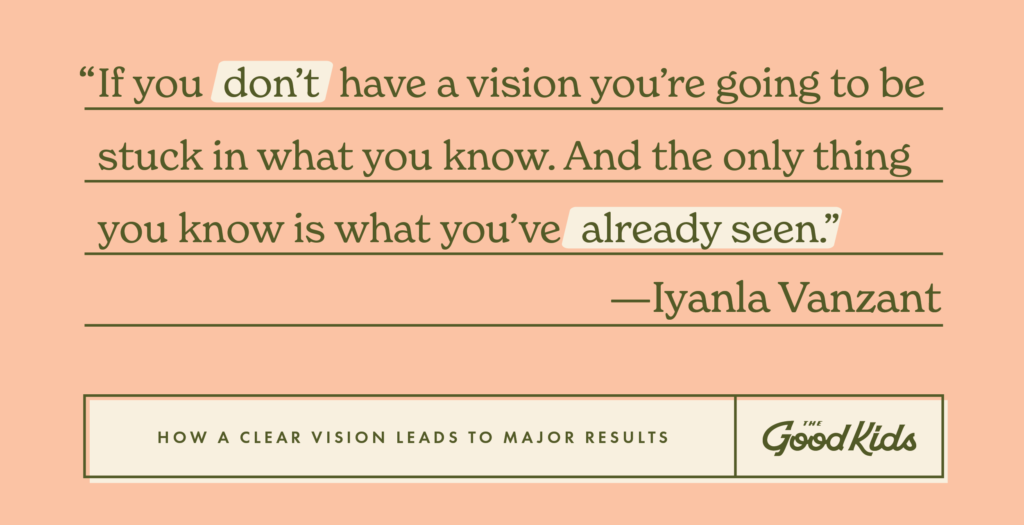 2. Vision empowers your employees (and you). Studies have found that about 70% of workers don't understand their company's vision at all. Not only does that hurt their performance and ability to effectively contribute to the business, but that's a fast pace way to discourage your employee until they look for another job. By sharing the company vision proudly and often, you invite your employees to be apart of something that creates positive results. Now they can think outside of the box and innovate alongside you, all the while giving them purpose behind their work.
3. Vision demands transparency. As a leader in today's world, building trust has never been more important. When you choose to share the vision with your team, you open the conversation to both the highs and lows along the journey. There is only room for full transparency and honesty as you lead them towards your ideal outcome.
4. Vision forces innovation. A quality vision should be both inspirational and challenging to accomplish, demanding only the top ideas and innovation so your company can turn your dreams into a reality. A vision helps you clearly see the outdated ways of doing things so you can rethink and recreate a better, more effective way to hit your goals. When you come together as a team to innovate, you're bound to see great results.
If you limit your choices only to what seems possible or reasonable, you disconnect yourself from what you truly want, and all that is left is a compromise. – Robert Fritz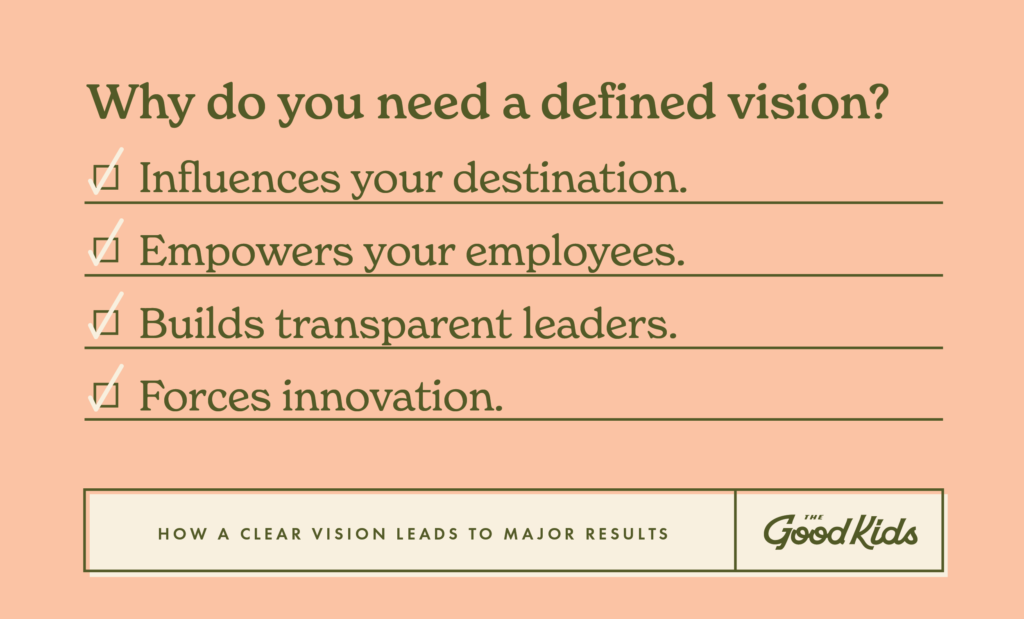 Examples of Vision Statements
Alzheimer's Association: A world without Alzheimer's disease.
Amazon: To be Earth's most customer-centric company where customers can find and discover anything they might want to buy online.
Ben & Jerry's: Making the best ice cream in the nicest possible way.
Caterpillar: Our vision is a world in which all people's basic needs – such as shelter, clean water, sanitation, food and reliable power – are fulfilled in an environmentally sustainable way, and a company that improves the quality of the environment and the communities where we live and work.
Creative Commons: Realizing the full potential of the internet — universal access to research and education, full participation in culture — to drive a new era of development, growth, and productivity.
Disney: To entertain, inform and inspire people around the globe through the power of unparalleled storytelling, reflecting the iconic brands, creative minds and innovative technologies that make ours the world's premier entertainment company.
Facebook: Connect with friends and the world around you on Facebook.
Google: To provide access to the world's information in one click.
Habitat for Humanity: A world where everyone has a decent place to live.
Hilton Hotels & Resorts: To fill the earth with the light and warmth of hospitality.
IKEA: To create a better everyday life for many people.
Intel: If it's smart and connected, it's best with Intel.
LinkedIn: Create economic opportunity for every member of the global workforce.
Microsoft (at its founding): A computer on every desk and in every home.
Oxfam: A world without poverty.
Patagonia: Build the best product, cause no unnecessary harm, use business to inspire and implement solutions to the environmental crisis.
Prezi: To reinvent how people share knowledge, tell stories, and inspire their audiences to act.
Samsung: Inspire the world, create the future.
Smithsonian: By 2022, the Smithsonian will build on its unique strengths to engage and to inspire more people, where they are, with greater impact, while catalyzing critical conversation on issues affecting our nation and the world.
Southwest Airlines: To become the world's most loved, most flown and most profitable airline.
Teach for America: One day, all children in this nation will have the opportunity to attain an excellent education.
TED: Spread ideas.
Walgreens: To be America's most loved pharmacy-led health, well-being and beauty company.
Warby Parker: To offer designer eyewear at a revolutionary price, while leading the way for socially conscious businesses.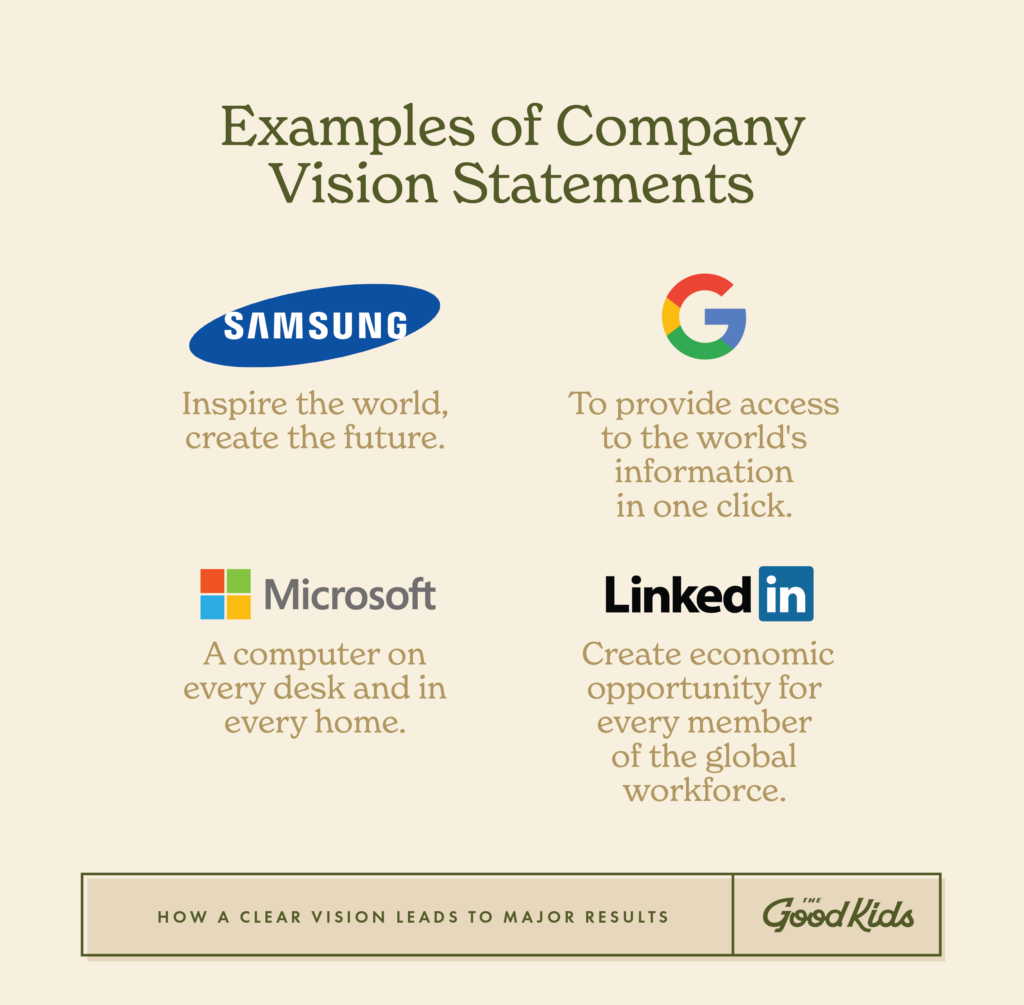 How To Narrow In On Your Vision
Now let's get to work! Finding your company vision can be a great exercise for both you and your team. If you are a new business, there's no better time, and if you've been doing business for years and feel like you've lost a sense of purpose or direction, finding your vision might be exactly what you need.
Step 1: Make sure all of the key members are in the room. It's one thing to know your personal vision for the company, but another to be aligned with your team and business partners.
Step 2: Find something to write on. You'll need something to quickly jot ideas onto, so often a pen and paper will be the preferred tools.
Step 3: On your piece of paper, create four vertical columns for 'today' '5 years' '10 years', and '20 years.' (If you want to use a different length of time, feel free!) Then create a second row by putting a line halfway through all of the columns. Row one will be for your vision of the specific industry you're in and row two will be for your company's vision.
Step 4: Now fill out each of these sections with the ideas and results you want to see at each of these durations of time. How do you want your industry to expand? How do you want your company to grow? Below is a list of questions to help you visualize the vision of each of these areas.
Questions to consider:
What's the founder's role in the business?
How large do I want the team to be?
What organizational structure should we have?
What's our claim to fame? Why do people care about what we do?
How will we measure success? What results do we want to see?
What type of employees will we need? What skillsets?
What type of environment do we want the business to give to its staff?
What will the culture of the business look like, and how will that play out in employees' lives?
What will the organization do and not do?
What will be our most important offerings and services to our customers or clients?
What's the public perception of our business?
What ultimate impact do we want to have on our community, industry, or the world?
In what way will we interact with customers and clients?

Step 5: Discuss your answers alongside your team and business partner so you can align your visions into one, simple, concrete vision. It's essential that the vision is clear and straight forward so you can quickly and easily communicate it to anyone on your team.
Pro Tip: Have a full-length version of your vision for the leadership's eyes only. While the short version is great for communicating with your team, the longer version can serve as a reference guide as you set goals with your leadership team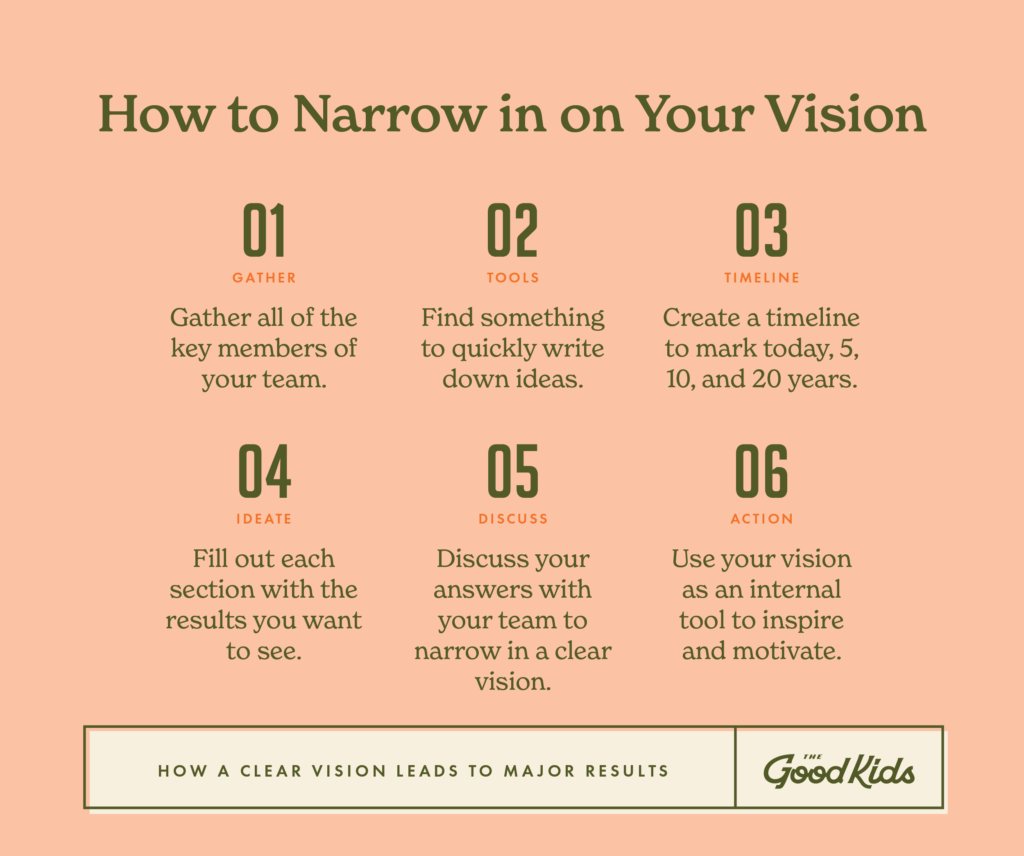 Put Your Vision To Work
Unlike your mission statement or even your core values, your company vision is naturally a more internal tool that doesn't need to be consumer facing. Think of it as a tool that helps align and inspire your team to reach the company's long-term goals.
With that said, use your company vision internally wherever you can to help empower your team. This could be in the form of a welcome packet when hiring new employees, written on the wall during strategic planning sessions, or during team retreats.
Vision without action is merely a dream. Action without vision just passes the time. Vision with action can change the world. – Joel A. Barker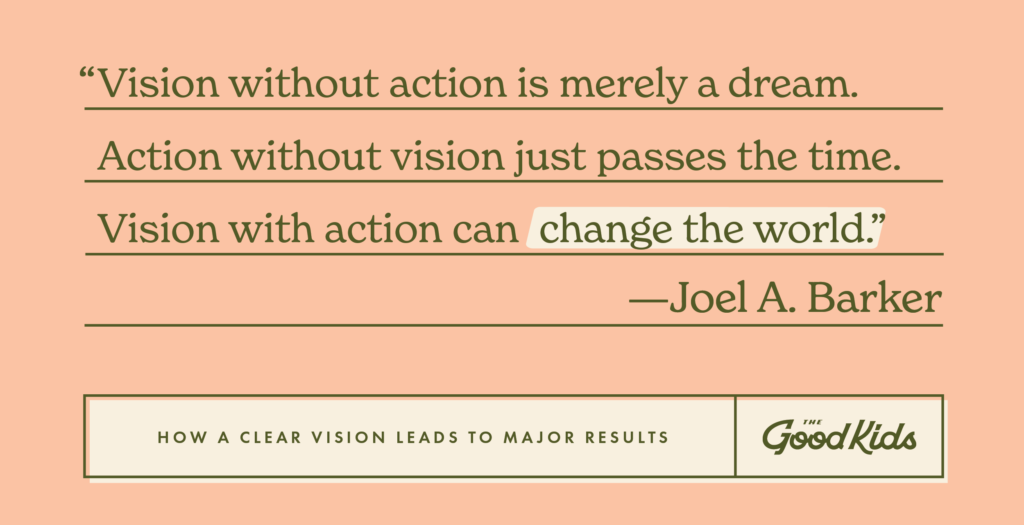 Stay tuned for more helpful resources in coming weeks. Next up, we're going to share how you can define your target customer persona so you can find your niche, focus your marketing efforts, and increase your sales.
See ya then!
Now you're all set!
Ready to define the 5, 10, 20+ year vision for your company? We've created a FREE worksheet to help you ideate your goals alongside industry trends so you can create a powerful vision.