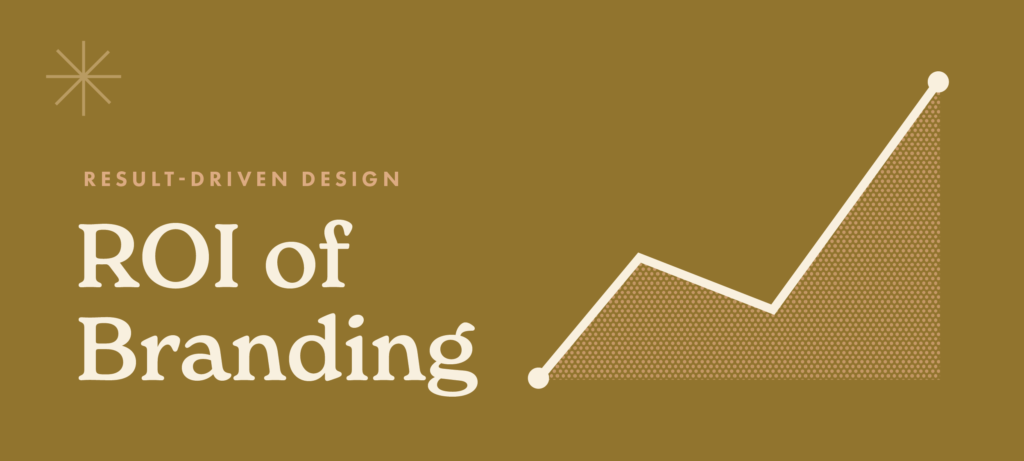 We've become trained to consider our investment in about everything in the form of its ROI or return on investment. From binging the latest episode of Bridgerton (Is Netflix worth $9.99 per month plus half of my waking hours?) to common office purchases (Is faster and more efficient work worth this $1300 new laptop?) time and money spent is vetted against a return.
So what is the ROI of branding? It depends. Strategic branding applied consistently delivers the highest return. The best brands realized gains across three areas: the market, customers, and staff.
ROI in the Market
When you invest in building a reputation/brand, the effects on the market value of the company skyrocket. A 14-year study by McKinsey & Company showed that top-ranked brands outperformed the competition's return to shareholders by 74%.
In addition to increased profits, other benefits of branding include a stronger barrier-to-entry for competing companies, increased sales growth and the ability to charge a premium price. A study by Millward Brown found strong brands commanded a 13% price premium over weak brands.
ROI with Customers
An investment in branding pays some of the highest dividends through customer satisfaction. Thoughtful and consistently applied branding not only appeals to customers, it's expected and pays. A report by Yext and Forbes Insights found that 60% of customers expect brands to provide consistent information across online platforms – be it their website, third-party sites or social media platforms. Lucidpress discovered that consistent presentation of a brand has been known to increase revenue by 33%.
Branding ensures that a company's values are shared and incorporated into the customer experience. Time and money spent on building your brand values is well worth it. More than ever before, customers are attune to values. According to Attest, 70.6% of consumers would stop buying from a brand that doesn't operate in a way that matches their personal values.
ROI with Staff
Last but not least, there's the internal return of investing in a brand. Branding promotes transparent and consistent communication that builds trust and an attractive office culture. It's no surprise that the most popular brands attract customers and employees. People want to shop and work there. Well-branded companies attract better employees, can count on referrals that lower the recruitment costs, build loyalty with the current team that contributes to retention, and reduces costs associated with training, and ultimately empowers employees to promote the company subconsciously, which is the best kind of advertising – free.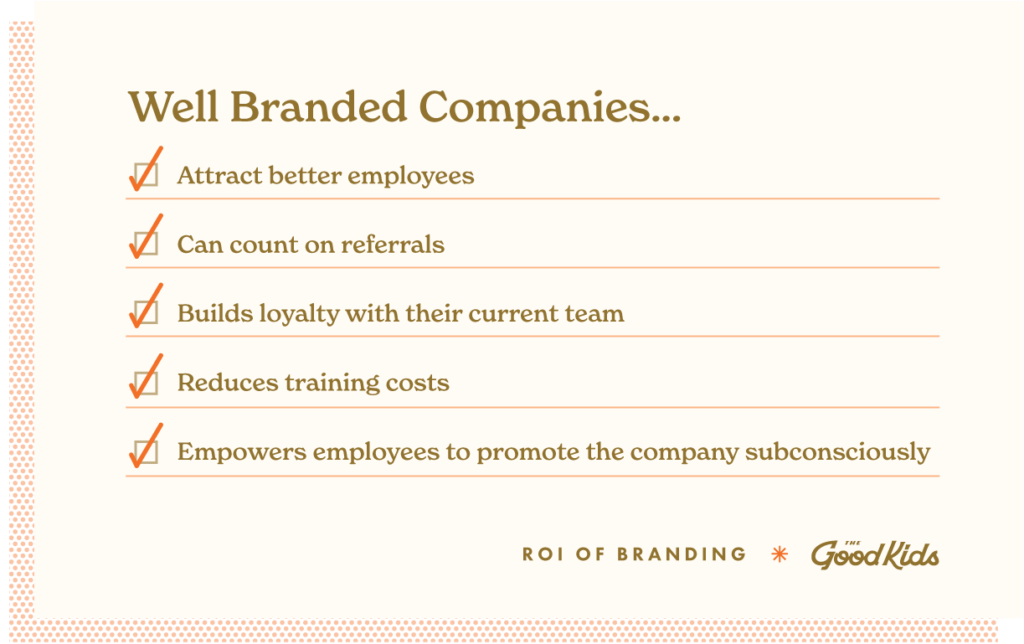 What to Spend
The ROI of branding is real and documented, but it can still be hard to write the check for a service you're unfamiliar with. When it comes to how much to spend on branding you can turn to industry standards. But first, change your mindset. Businesses that consider branding an investment rather than an expense have a better experience.
Like every other investment, the amount to invest in branding depends on how soon you expect to realize a return and your current financial circumstances. Industry standards suggest companies should invest 10-15% of their budget into branding.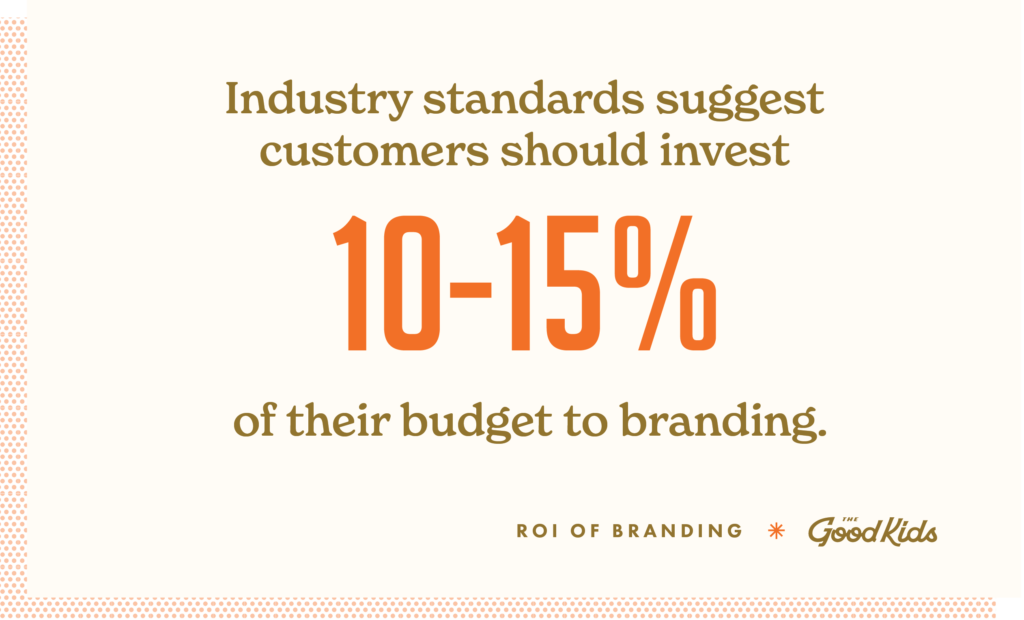 If you're a startup, investing in your brand begins with creating a brand strategy and visual identity. Brand strategy answers who, what, where and why questions about your business. Visual identity addresses how. It's important for companies to spend time on their business basics before beginning visuals. A logo, icon, colors and fonts should be created to convey a company's mission, vision and values and appeal to a specific audience.
Existing companies are either investing in brand activation, performing a brand audit or engaging in a rebrand. Activation is putting your brand to work through advertising and marketing. Brand audits are a way to gauge the effectiveness of an existing brand. Rebranding is making minor adjustments or a complete overhaul to a visual identity.
Wise investors remind us to make consistent deposits and to avoid rash decisions. Those recommendations bode well for brand investments. Earmark funds to support your brand efforts and consistently measure your brand.
What to Measure
Measuring a brand, like measuring happiness, isn't always easy or straightforward. Thankfully there are a multitude of metrics and studies that prove branding can be measured and that branding is one of the best investments a company can make.
Measuring Market ROI
To actively measure the ROI of these for your company, you can review price points in comparison to the market, analyze lead metrics or sales reports, and do an overall brand audit to see how customers view your brand compared to its closest competitors.
Measuring Customer ROI
To actively measure the ROI with customers, you can review the total number of customers, number of recurring customers, the average amount spent per customer, the company's net promoter score, time spent on a website, email open rates, and consumer reviews.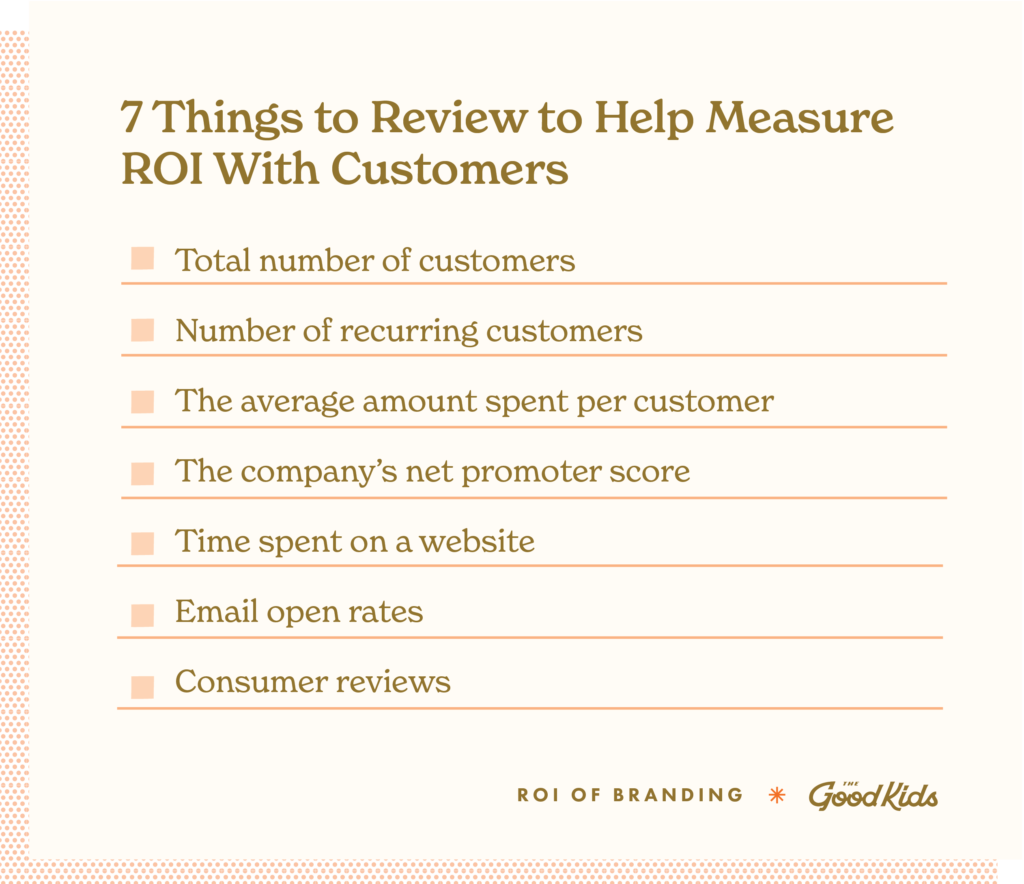 Measure Staff ROI
To actively measure the ROI within your internal team, you can review employee retention, money spent recruiting new employees, and number of new hire referrals. You also can gauge employee happiness via internal surveys.
Now you're all set!
Ready to take the first steps towards building a strategic brand that gives you a high ROI? Take our NEW branding quiz to see how your current brand stacks up.
(Don't forget to let us know how you score!)